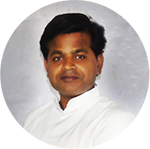 "Truly I tell you, whatever you did for one of the least of these of mine, you did for me" (Mt 25:40)
There is a famous saying, by John Mott, "Evangelizing without social work is deficient". Tiruchirappalli Multipurpose Social Service Society, the Diocesan Social Service Body promotes the gospel values, by involving in multi various Social activities for the sustainable development of the marginalized and poor people.
Social work must be integral. It should not only be focused on one Target group but rather should embrace all the deserving people who are in need. TMSSS provides such a platform. The Health Programmes of TMSSS' are Care and support of HIV/AIDS Infected and affected, Multi-Drug Resistant Tuberculosis Programme for TB patients, Community based Health Centres in rural villages, Integrated Rehabilitation Centre for Drug Addicts (IRCA), Medical Camps in rural and slum areas, and Provision of Safe and Protected Drinking Water for the deserving village people. We also do Educational and Sports Activities like Day care Centre for normal and MR Children, Education, Care and Support for poor Boys and Girls, Realmadrid Social – Sports Schools, After School Program for Slum children, Special Summer Course on Computer Basics, Spoken English & Tailoring.
We execute the Rehabilitation Programmes like Nambikkaiyagam – Home for MR Adults, Short Stay Home for Stranded Women and Girls, Sontham – Integrated program for Street Children (open Shelter), Sontham Binding Unit for rehabilitation of Street Children, Infant Jesus Day Care Centre for MR Children, Community Based Rehabilitation (CBR) Programme and Artificial Limbs Fitment and Physiotherapy Treatment Centres for the physically challenged people.
We involve ourselves in Agricultural & Environmental Programmes like Delayed Marketing Centres, Participation in PM's Swatch Bharath Mission, Awareness on Preservation and protection of Natural Resources, Agricultural Training Centre (ATC) to equip and empower small and marginal farmers.
We implement also the Women Welfare Activities like Surabi Mahalir Membattu Iyakkam (MMI), Kolping India Project, St. Mary's Working Women Hostel and Family Counseling Centre. Our Other Social Welfare Activities & Relief Works are Medical Relief, Educational Aids & other Charitable Activities, TMSSS – Kolping Emergency Fund, Flood and disaster Relief Activities. Pope Francis Says, 'A little bit of mercy makes the world less cold and more just'. Our TMSSS' services to the deserving people though are very little but our staff do them with commitment and dedication bearing real witness to Christ since 1975. We owe a lot to our Benefactors for our achievements and we thank them profoundly.
Fr. B. JOHN SELVARAJ
Director